About Hällevik Tradjazzfestival
Every summer, the picturesque little fishing village of Hällevik in Blekinge's Listerland is transformed into a bubbling cauldron of exuberant trad jazz, along with thousands of happy music lovers. Hällevik Trad Jazz Festival has become an annual party and, for many it is as much of a tradition as Midsummer itself.
The festival is organised by the Jazz i Hällevik association and this year's festival will be the 17th to be held. Each year, 10-15,000 guests come to Hällevik to enjoy the music and have a great time. More than 20 bands provide entertainment on 5 different stages over a 3 day period – and all the stages are within easy walking distance of each other. Hällevik Trad Jazz Festival attracts musicians from all over Europe, they are literally queuing up to come and play for us. This means that we can keep our programs fresh and try out new groups and forms of musical expression. In recent years we have focused on involving all the more younger musicians and we are constantly striving to increase the percentage of female musicians performing at the festival.
The festival is extremely accessible and, as a result, it provides many people with their first real taste of jazz. Here it's easy to just enjoy the music, the fantastic surroundings and the friendly atmosphere. It's no surprise that our guests come from all over Europe.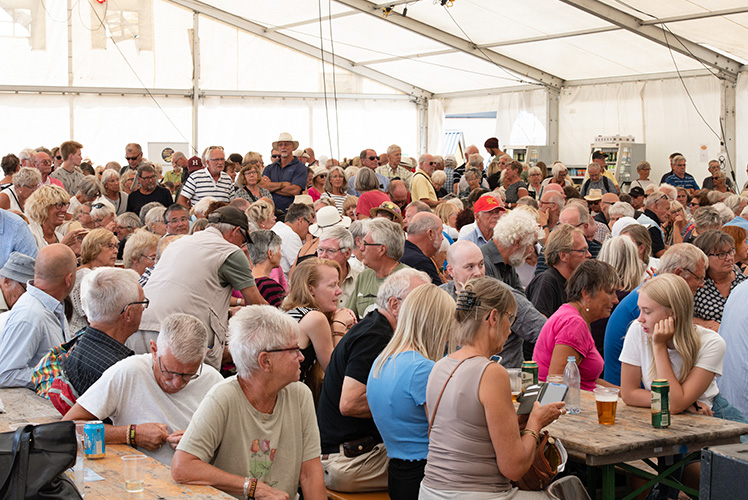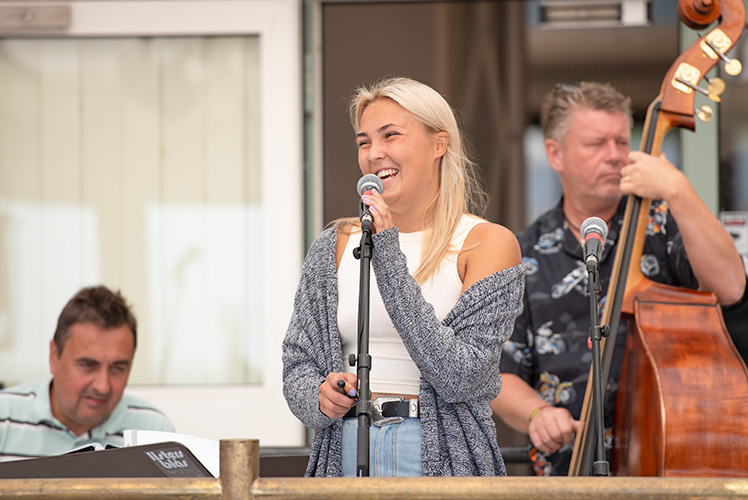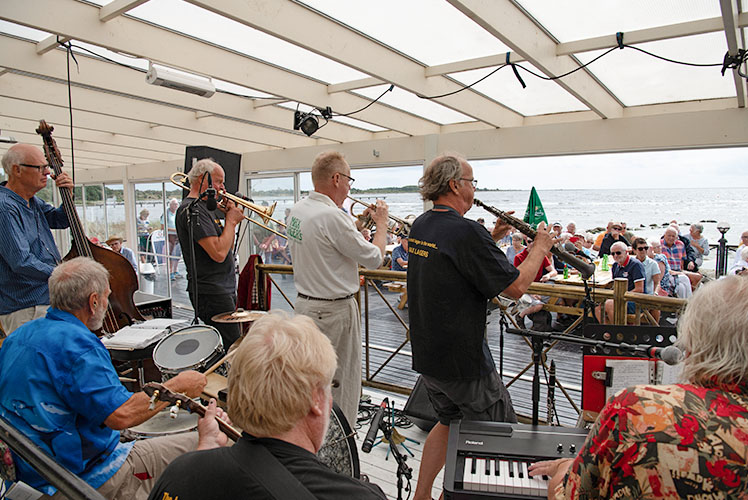 About Hällevik
Hällevik is a picturesque village comprised of mostly old buildings and a large, sheltered harbour enjoyed by many a seafarer. Hällevik är ett pittoreskt samhälle med till stor del gammal bebyggelse och en stor skyddande hamn som är fantastisk att besöka för sjöfarare. Hällevik is located in the municipality of Sölvesborg, an area that is growing rapidly, largely thanks to its blossoming tourism industry. Our collaboration with Sölvesborg is extremely successful!
Listerland protrudes into Hanö Bay and in this part of Blekinge there is no archipelago to protect it. Travel due south for 45 minutes or 80 km and you'll find the lovely Danish island of Bornholm and just round the corner to the southeast of Hällevik you'll find the island of Hanö just a stone's throw away. Several nature reserves can also be found nearby.
We are in the 'garden of Sweden' and here the countryside is fantastic. You'll find coastal meadows, beech forests and hilly peaks with amazing views, as well as the many fabulous sandy beaches of course. Bathing conditions are idyllic here and Hällevik has been a popular bathing destination since the early 1900s.
This is a summer paradise and naturally you will also find fish smokehouses and pubs to enjoy: Hanöhus is an iconic entertainment venue located right on the water's edge; Hälleviks Havsbad is a wonderful hotel from the 1920s with a classic veranda; Dagmars hamnkrog (pub/restaurant) is right on the seafront, and so on. And possibly Sweden's most beautifully located campsite can also be found on the outskirts of the village, near great walking countryside and beaches. And don't forget the 50 metre swimming pool if you fancy a dip!
The Hällevik Summer Camp dates back to 1928 and is one of Sweden's most authentic sports movements. Every year hundreds of children from all over Sweden come to the camp for a week, enjoying 'camp life' whilst staying in beautiful culturally protected dormitories. And right next door to them is Strandvallen, which is home to Mjällby AIF, the team that has put Blekinge on Sweden's football map over the last 30 years.
But Hällevik is not just a summer idyll – around 900 live here all year round. It has its own school, library, gym, shops and pretty much anything else you could possibly need.
See you in the summer!!